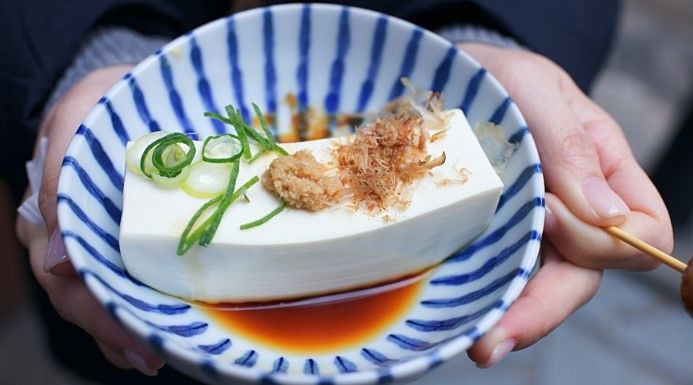 Is tofu sustainable?
Tofu is big business and is worth approximately £95m in the UK, with this expected to soar to around £189m in five years' time. Generally used as a replacement for animal products, tofu has found its home on the plates of vegans and vegetarians increasingly in recent years.
---
14 Sep, 2023
The first use of tofu stretches back over 2,000 years ago to the Chinese Han dynasty. Today, it remains a staple in Asian recipes, but its versatility in the kitchen and ability to soak up flavor means it's often used as a meat alternative in a number of other dishes, from tofu burgers to chicken-style breaded strips.

It all starts with the humble soybean. Tofu is prepared by coagulating soy milk, with the resulting curds then pressed into blocks of varying softness. As a result, tofu has many forms including puffy tofu, silken, soft, firm and extra firm, all of which have different uses in the kitchen.

Soybeans are high in protein, amino acids and calcium, meaning that tofu can be a nutritious addition to your menu, and is a great source of alternative protein when used instead of meat. Soybeans are also an excellent source of fibre, providing both soluble and insoluble fibre in excellent quantities, and is therefore a beneficial food to aid bowel movements.
#tofu #vegan #veganfood #plantbased #food #vegetarian #foodie #healthyfood #foodporn #tofurecipes #veganrecipes #foodphotography #instafood #dinner #healthy #foodstagram #yummy #whatveganseat #homemade #veganlife #veganfoodshare #lunch #delicious #govegan #healthylifestyle #vegansofig #foodblogger #homecooking #asianfood #glutenfree
Related Products
Tofu and soy milk production line
Tofu production line planning, technical transfer.

Download
Is tofu sustainable? | CE Certified Tofu Product Line, Soybean Soak & Wash Tank, Grinding & Cooking Machine Manufacturer | Yung Soon Lih Food Machine Co., Ltd.
Based in Taiwan since 1989, Yung Soon Lih Food Machine Co., Ltd. has been a food manufacturing machine manufacturer that is specilized in soy bean, soy milk and tofu making sectors. Unique design soy milk and tofu production lines built with ISO and CE certifications, sold in 40 countries with solid reputation.
Yung Soon Lih has more than 30 years of food machinery manufacturing and technical experience, professional production: Tofu Machine, Soy Milk Machine, Alfalfa Sprouts Germination Equipment, Grinding Machine, etc.