Exquisite Tofu Maker Machine
Small Scale Tofu Machinery
Tofu Legend Machine can process up to 35kg~40kg dry beans and 60-90kg wet beans per hour. Continuous cooking (8 anti-scalding devices) is adopted, no need to add defoamer during cooking, and the continuous cooking temperature can reach 105 °C. It only takes 5 minutes to go from grinding beans to boiling soy milk. Therefore, it is definitely a machine worth investing in.
Tofu Legend is a must-have machine
The Tofu Legend is a must-have machine for small tofu factories as it can be produced continuously, maximizing output and taking up little space. Tofu Legend pays more attention to the design details of the equipment, and the angle of the feeding area is designed with a golden ratio to make the feeding process smoother. In addition, the grinding separator adopts a push-pull hidden design to save space, the motor is a waterproof device, and the multi-function handle can be stored.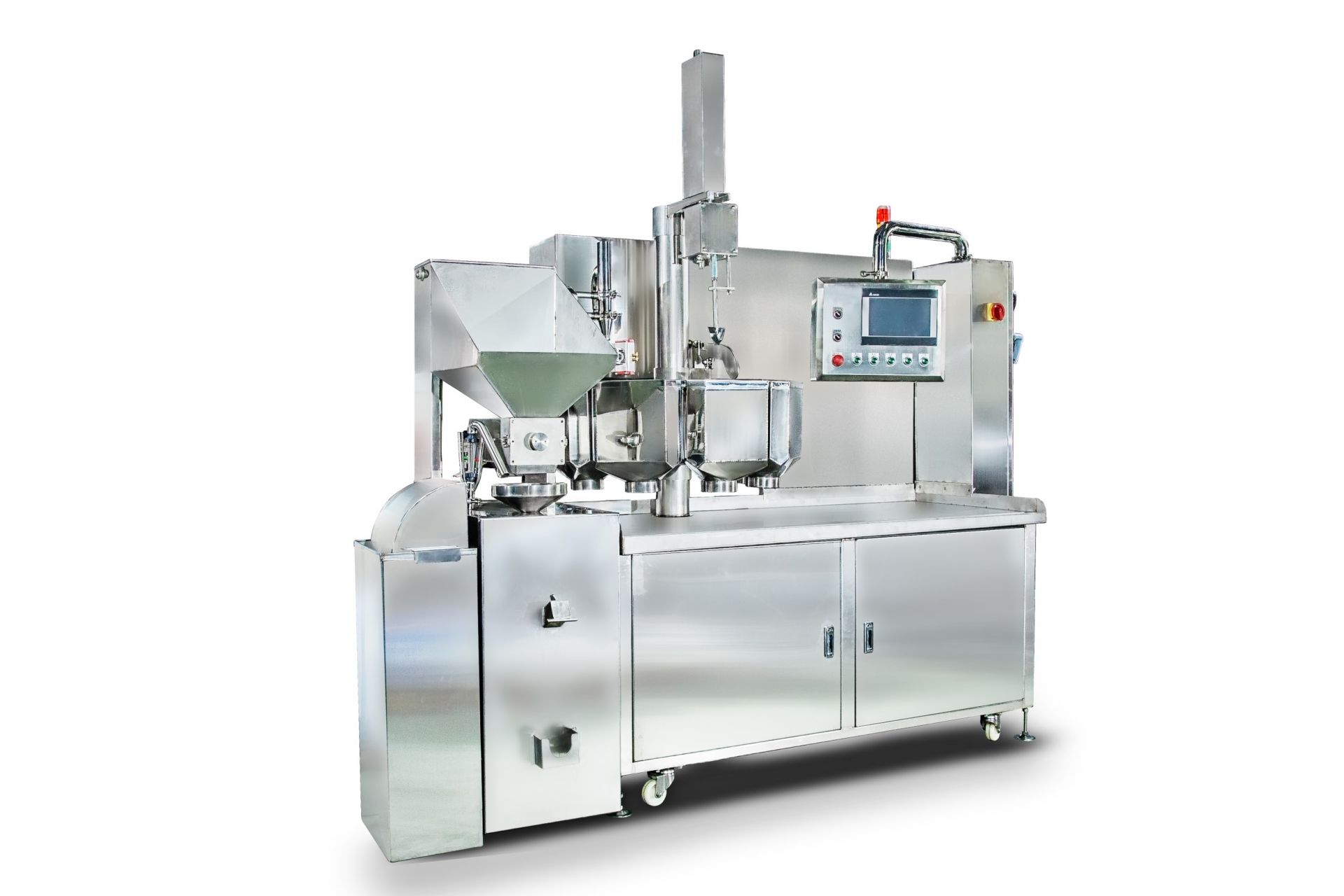 The Humanity Design of Tofu Legend
The tofu machinery and equipment adopts automatic and degassing design to reduce beany smell and is equipped with overheat protection program, automatic quantitative addition of coagulant, automatic beating, PLC automatic control is more comprehensively improved, the operating system is simple, the whole process is digitally operated, and the operation is simple because it is With a semi-automatic operating system, one person can operate the machine. The machine is made of stainless steel and complies with food safety and hygiene regulations. The CIP assembly line can be cleaned after production, easy to clean and maintain, and has a complete sales service and teaching system to obtain low-cost profits, fast production, in line with market trends, and ready for sale to keep the quality visible. For retailers producing tofu and developing new products, the best machine to be a franchisee! It is deeply loved by overseas buyers of small tofu Factory!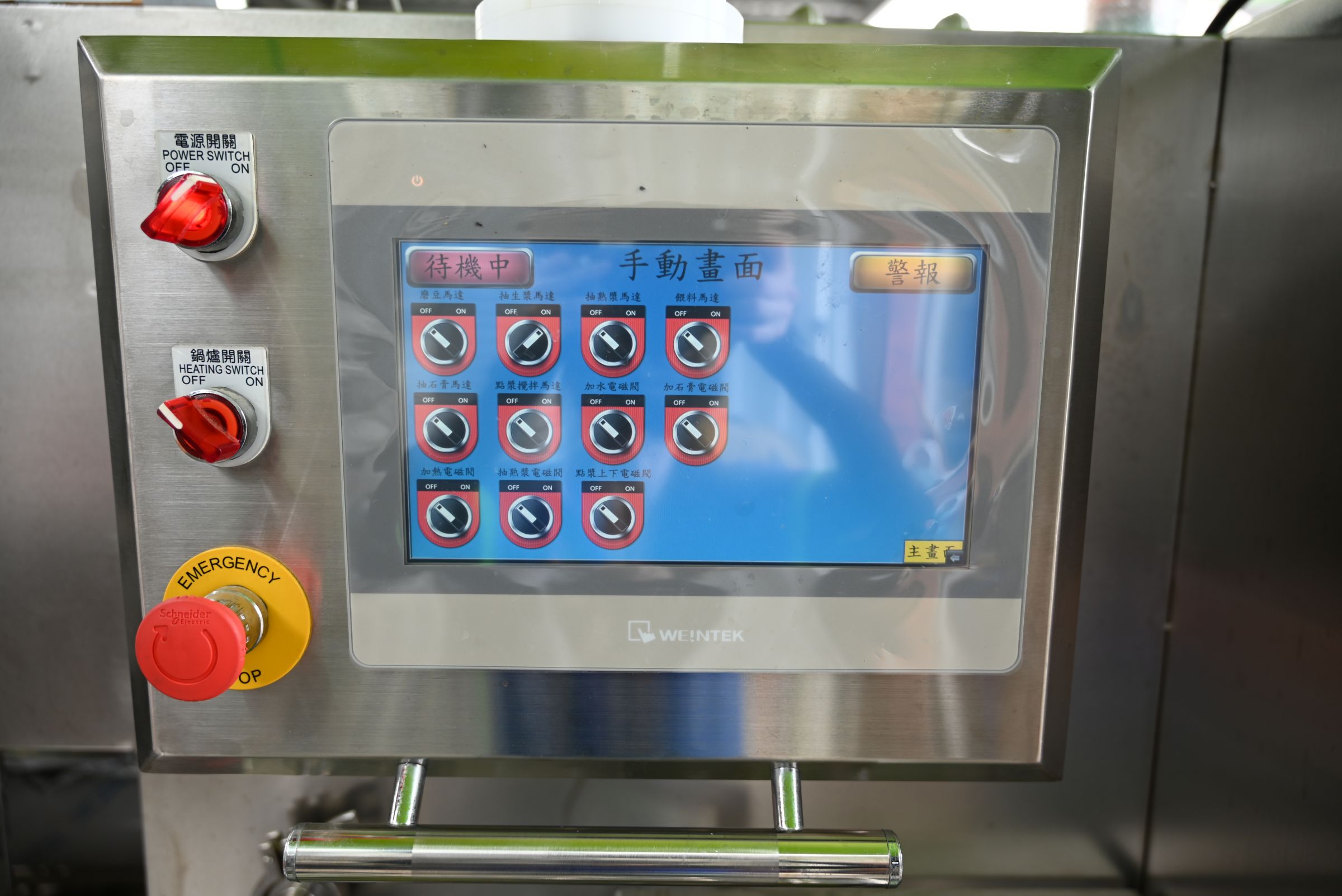 Features
5 multi-function machines with Grinding & Separating, Cooking & Pumping, Coagulating, Stirring and filling, and Pressing and molding machine.
The maximum capacity of dry soybeans is 30~40kg per hour.
Incredible production yield by continuous production
Without non-deformer agent when soymilk is cooking.
The temperature of continuous cooking could reach 105°C and season at the same time.
Process
quantitative feeding the soybean→automatic separating the okara→automative adding in the water →continuously cooking process→quantitative adding the coagulant→simple CIP pipeline cleaning
SPECIFICATION
| | |
| --- | --- |
| Size/Weight | 2,500mm(W) x 1,500(D) x 2,200(H) |
| Electricity | 380V / 220V / 30KW |
| Capacity | Dry Bean 30~40kg/hr |
| Product name | Extra firm tofu, tofu, tofu pudding, soy milk |
*The above mentioned speccification are subject to change without prior notice.
Services
*Clarify Requirements: Help our custormer to produce a market demanded Tofu, soy milk. *Cost-efficient Solutions: Give the professional suggestions on plant planning. *TechnologyTransfer: Provide training operating and maintenance service at client's plant. *Installation & Production Consultants: installation at client's plant Providing handbook for food machine operation and maintenance. Offering an complete training for food machine operating for our clients. Hardware problem solving - Arrange local engineer, specially-assigned person for site maintenance and trouble shooting. Visiting at least once within two years to provide equipment calibration, food producing and Quality control face to face consulting. Consulting service on Capacity and Factory Expansion.
Movies

Product Patents

Files Download
Tofu and soy milk production line
Tofu production line planning, technical transfer.

Download
Exquisite Tofu Maker Machine - Small Scale Tofu Machinery | Taiwan-Based Soybean Processing Equipment Manufacturer Since 1989 | Yung Soon Lih Food Machine Co., Ltd.
Based in Taiwan since 1989, Yung Soon Lih Food Machine Co., Ltd. has been a Exquisite Tofu Maker Machine manufacturer that is specilized in soy bean, soy milk and tofu making sectors. Unique design soy milk and tofu production lines built with ISO and CE certifications, sold in 40 countries with solid reputation.
We are the first food machine manufacturer whom developed the European Tofu turn-key production line, which can produce Asian Tofu, and Soy Milk processing equipment. Our tofu production machines are specially design and able to produce Tofu Burger, Vegetable Tofu, Smoked Tofu, Tofu Sausage to satisfy consumers' demand from the American and European market.