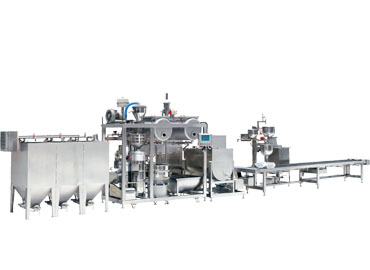 Japanese Silken Tofu Production Line
Soft Tofu Production Line
Japanese tofu (silken tofu, soft tofu) has been prevalent in Asia and is usually used in salads. In Japanese restaurants, Japanese tofu -- after being seasonned with soybean sauce or sesame -- is often served with either with bonito flakes and nori just to increase the japanese flavor or it can also be embellished with green vegetables to look smoother and delicious.
---
Recently in European countries, people learned that soybeans contain a large amount of vegetable protein. Furthermore, there is an increasing number of vegetarians, thus Europeans have begun active research and development on new tofu products. Now, more and more European restaurants not only make tofu hamburgers, vegetable tofu and tofu sausage with regular tofu, but also use Japanese tofu(silken tofu, soft tofu), vegetables and fruit for appetizers such as salads.

Japanese tofu(silken tofu, soft tofu) attracts a lot of people who desire to lose weight, women who want to keep a good figure and vegetarians, not only because of its high protein content, taste and tenderness but also because of its bodily edible fullness.
Washing and Soaking Machine - Computer parameters can be set the soaking time, drainage time, temperature sensor and water changing time. Grinding Machine - Computer parameters can be set the amount of soybeans, water volume, stable soy milk concentration. The hopper which was designed with the gold cone angle can used to increase the extraction rate of soybean protein. It can be increased the extraction rate of soybean protein by about 5% when using secondary grinder. Boiling Machine (known as Cooking Machine) - Computer parameters can be set the sucking time, injecting time, cooking time. Coagulation Machine - Computer parameters can be set coagulant injection time and dose, grouting and slurry discharge time. Pasteurization Machine- Computer parameters can be set individual tank temperature, conveyor belt speed time.
Through this period, we got satisfied reviews from our customers, like low breakdown rate, high durability, high capacity with efficiency, quick response and high quality after service...etc. More importantly, our customers got 15 ~ 20% growth rate every year from EVERSOON Tofu Processing Equipment. Also, our customers save 20~30% in maintenance cost compared with our competitors. We dare to say proudly, that the first Tofu Production Line made from YUNG SOON LIH FOOD MACHINE is still working as usual every day, and has undergone several expansions of production capacity. This is the result of our commitment to manufacturing good quality products and offering dedicated customer services.
Below is Japanese tofu(silken tofu, soft tofu) Production Line (Japanese Silken Tofu Production Line)
operating processor flow chart for your reference.
Step Process
1.Feeding Soybean to Dry Beans Tank by worker.
2.Transferring Soybean from Dry Beans Tank to Soybean Soaking & Washing Machine by Soybean Transferring Machine (Screw Soybean transferring Machine or Vacuum Soybean transferring Machine). It's saving time and labor cost, no need for labor to deliver Soybean.
3.Soybean Washing and Soaking. Choose our Soybean Soaking & Washing Machine to cost down for labor charge and upgrade quality.
4.Soybean grinding and separating in Automatic Soybean Grinding & Okara Separating Machine (or Automatic Soybean Twin Grinding & Okara Separating Machine).
5.Delivering Soybean okara by Okara Transportation Machine.
6.We offer two type of Soy milk cooking machine for our customer to choose, one is General Automatic Soy milk(soy milk) Cooking Machine, another is CE Soy milk Cooking Machine (CE Automatic Soy milk Cooking Machine).
7.Using Plate Cool Exchanger Machine to reducing temperature of Soy milk(soy milk).
8.Feeding coagulate automatically, and stirring with Soy milk(soy milk).
9.Filling coagulated Soy milk(Soy milk turn into soft tofu) into box and sealing by Boxed Tofu Filling & Sealing Machine.
10.Putting boxed Silken Tofu(Soft Tofu) into Sterilizing Equipment for sterilization to extend expiry date.
welding process


Typical Product
Silken Tofu (Soft Tofu) is suitable for soups, baked desserts, and salad dressings. Also, it works equally well with fish and meat in savory dishes, such as a classic Szechuan dish, Ma Po Tofu.
After-sales service
EVERSOON provides 24-hour online consultation, cooperates with engineers to solve customers' problems by the remote operation, saves people's round-trip time and labor cost, and solves customer problems in a timely and rapid manner.
In addition, food manufacturers who just started their business or expanded their factories, our senior engineers will go to the company site to survey and help you to planning the layout. In the past 30 years, we had built up a good partnership with our global customers like Czech Republic, Poland, Canada and also transfer the technical know-how of produced soy milk and tofu to our customers. We were committed to becoming turnkey solution provider.
▲EVERSOON provides the service of 24-hours after-sales.
Movies
Remark
Please feel free to let us know if you need any further information about Tofu and Soy milk making machine.
Also, please let us know the name of machine you interested in, and which kind of product would you like to produce and daily expect capacity required to provide proper solution for you.
With this information, it would be easier for our sales to provide total solutions for you which you exactly needs.
We had more than 30 years' experience to manufacture Tofu, Soy milk Processing Machine, we are willing to share our Tofu, Soy milk producing experience to you for helping you to complete your production line and production efficiency increasing.
Tofu and soy milk production line
Tofu production line planning, technical transfer.

Download
Japanese Silken Tofu Production Line - Soft Tofu Production Line | Professional Soybean Processing Equipment Supplier For 32 Years in Taiwan | Yung Soon Lih Food Machine Co., Ltd.
Based in Taiwan since 1989, Yung Soon Lih Food Machine Co., Ltd. has been a Japanese Silken Tofu Production Line manufacturer that is specilized in soy bean, soy milk and tofu making sectors. Unique design soy milk and tofu production lines built with ISO and CE certifications, sold in 40 countries with solid reputation.
EVERSOON, a brand of Yung Soon Lih Food Machine Co., Ltd., is a leader of Soy Milk and Tofu Machines. Being a guardian of food safety, we share our core technology and professional experience of Tofu production to our worldwide customers. Let us be your important and powerful partner to witness your business growth and success.