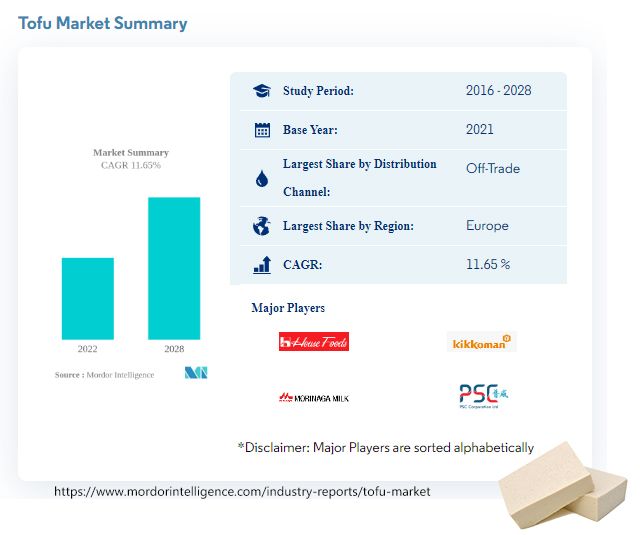 Tofu market is growing at a CAGR of 11.65%
The global tofu market is projected to grow at a CAGR of 11.65%
• Largest market segment by region - Europe: As the vast majority of the population is allergic to soybeans, soy-free tofu made from chickpeas and yellow peas is popular in the market.
• Largest segment by distribution channel - Off-premise sales: Consumers are buying more from supermarkets and hypermarkets as the assortment in stores expands and shelf space expands for meat alternatives such as tofu.
• Fastest growing segment by region – Asia Pacific: Tofu is a common ingredient in ethnic and regional cuisines of East and Southeast Asia, with subtle regional differences in production methods, textures, flavors and uses.
• Fastest growing segment by distribution channel - Trade: Sales growth is due to the launch of several vegetarian restaurants or the addition of vegetarian menus in traditional restaurants due to the increase in the global vegetarian population.
---
28 Dec, 2022
Tofu Market Trends
According to our research experts, this section covers the key market trends shaping the Tofu market:
Off-market sales are the largest segment of the distribution channel.
• Tofu sales in convenience stores worldwide have been gradually increasing over time, growing 23.27% YoY in value terms in 2021. Demand for plant-based protein products has increased since the start of the COVID-19 pandemic. With the availability and access to meat products disrupted, many people have had to turn to soy products to meet their protein needs. The European region holds a major share of 37.34% of the global market, and the vegetarian population has doubled in four years, from about 1.3 million in 2016 to 2.6 million in 2020.
• Over-the-counter distribution channels accounted for a major share of 71.29% of the global tofu market in 2021. Tofu sales have been driven by a preference for tofu as a more economically viable option over meat substitutes due to its lower price. For example, 7-Eleven, one of the major consumers of tofu, has more than 16,000 stores in five Southeast Asian markets and is strengthening sales in the region, while Walmart is also investing heavily in Canada to open more stores and improve its delivery system .
• The online channel segment is projected to be the fastest growing distribution channel, registering a CAGR of 17.59% in value during the forecast period 2022 to 2028. During the COVID-19 pandemic, online channel sales increased by 90.31% from 2019 to 2020, as retail stores closed globally due to government regulations and due to digital payment, contactless delivery Ease and convenience, people started shopping online with a wide range of products at huge discounted prices on one platform. In addition, the global Internet penetration rate in 2021 will be about 59.5%.
Europe is the largest segment by region.
• The region with the highest consumption of tofu in 2021 will be Europe. The European tofu market is expected to grow by 38.24% from 2016 to 2021, owing to the rise in the number of flexitarians and vegetarians and various government initiatives to encourage the consumption of meat alternatives. The European Commission has developed a strategy to assist the EU in achieving carbon neutrality by 2050. As part of the European Green Deal, the Commission committed to invest $99.2 billion in the green transition between 2021 and 2027. The program is aimed at making financial investments in plant-based and alternative proteins.
• Asia Pacific is the fastest growing region for tofu globally and is expected to register a CAGR of 14.37% during the forecast period 2022-2028. The tofu market in Asia is expected to witness rapid growth owing to increasing demand from consumers and investors. Positive indicators of this trend include the growth of new companies and start-ups in the region and government efforts to reduce greenhouse gas emissions. The Chinese government announced new dietary recommendations in 2016 to reduce its population's meat consumption by 50%. China's health ministry also advises people to limit their daily meat intake to between 40 grams and 75 grams. These initiatives have the potential to substantially reduce greenhouse gas emissions while improving public health.
• The North American market is another promising market region and is expected to register a CAGR of 10.81% during 2022-2028. In 2020, the Canadian government invested $73.2 million in plant-based proteins such as tofu. The funding was allocated to Merit Functional Foods, a business that specializes in converting domestically sourced peas and canola into high-quality plant-based proteins like tofu and tempeh.
Competition Analysis of Tofu Market
The global tofu market is relatively fragmented, with the top five companies accounting for 11.56%. The key players in this market are House Foods Group Inc., Kikkoman Corporation, Morinaga Milk Industry Co. Ltd, PSC Corporation Ltd, and Vitasoy International Holdings Ltd. (in alphabetical order).

Article source:
https://www.mordorintelligence.com/industry-reports/tofu-market
Video

How to Make Tofu

How to Make Extra Firm Tofu

How to Make Dou Hua (Tofu Pudding)

TOFU LEGEND SERIES- Level adjustment

Tofu legend machine- Before Production #1 In-pipe Cleaning

Tofu legend machine-Before Production #2 In-pipe Cleaning Finishe

Related Products
Tofu and soy milk production line
Tofu production line planning, technical transfer.

Download
Tofu market is growing at a CAGR of 11.65% | CE Certified Tofu Product Line, Soybean Soak & Wash Tank, Grinding & Cooking Machine Manufacturer | Yung Soon Lih Food Machine Co., Ltd.
Based in Taiwan since 1989, Yung Soon Lih Food Machine Co., Ltd. has been a food manufacturing machine manufacturer that is specilized in soy bean, soy milk and tofu making sectors. Unique design soy milk and tofu production lines built with ISO and CE certifications, sold in 40 countries with solid reputation.
Yung Soon Lih has more than 30 years of food machinery manufacturing and technical experience, professional production: Tofu Machine, Soy Milk Machine, Alfalfa Sprouts Germination Equipment, Grinding Machine, etc.
View our quality tofu and soy milk manufacturing machinery
Easy Tofu Maker
,
Tofu Production Line
,
Japanese Silken Tofu Production Line
,
Soy Milk Production Line
,
Fresh Soy Milk Production Line
,
Tau Hu Production Line
,
Bean Sprouts Germination Production Line
,
Alfalfa Sprouting Germination Production Line
,
Soybean Rice Grinding Machine
,
Soybean Rice Grinding & Separating Machine
,
chili Grinding Machine
,
Seafood & Fish Bones Grinding Machine
,
Boiling Pan Machine
,
Herbage & Sugar Cane Juice Machine
and feel free to
Contact Us
.