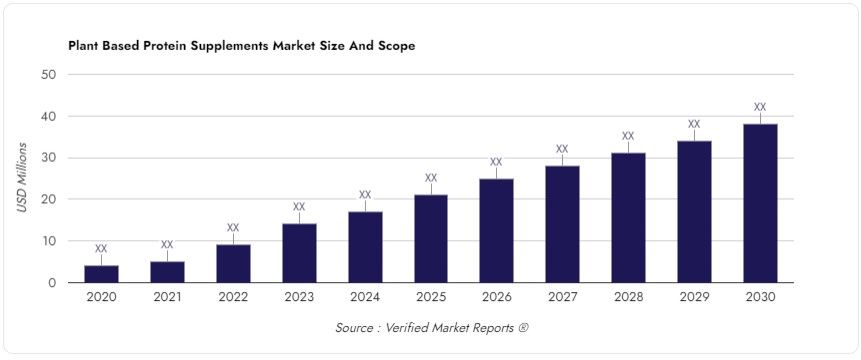 Plant Based Protein Supplements Market Overview
The Plant Based Protein Supplements Market size is expected to develop revenue and exponential market growth at a remarkable CAGR during the forecast period from 2023–2030. The growth of the market can be attributed to the increasing demand for Plant Based Protein Supplements owning to the Protein Powder, Protein Bars, Ready- to-Drink (RTD), Others Applications across the global level. The report provides insights regarding the lucrative opportunities in the Plant Based Protein Supplements Market at the country level. The report also includes a precise cost, segments, trends, region, and commercial development of the major key players globally for the projected period.
---
29 Aug, 2023
The Plant Based Protein Supplements Market report represents gathered information about a market within an industry or various industries. The Plant Based Protein Supplements Market report includes analysis in terms of both quantitative and qualitative data with a forecast period of the report extending from 2023 to 2030. The report is prepared to take into consideration various factors such as Product pricing, Product or services penetration at both country and regional levels, Country GDP, market dynamics of parent market & child markets, End application industries, major players, consumer buying behavior, economic, political, social scenarios of countries, many others. The report is divided into various segments to offer a detailed analysis of the market from every possible aspect of the market.
#plantbasedprotein #plantbased #vegan #veganprotein #veganfood #plantbaseddiet #plantbasednutrition #veganrecipes #plantbasedmeals #plantbasedrecipes #veganlife #protein #plantbasedfood #veganfoodshare #healthylifestyle #whatveganseat #plantbasedvegan #nutrition #healthyfood #plantbasedfoods #plantprotein #vegansofig #glutenfree #dairyfree #plantbasedlifestyle #fitness #plantbasedpower #veganinspiration #plantbasedeating #plantbasedlife
#vegetarian #veganism #plantbasedfoodie #veganfoodie #healthy
Related Products
Tofu and soy milk production line
Tofu production line planning, technical transfer.

Download
Plant Based Protein Supplements Market Overview | CE Certified Tofu Product Line, Soybean Soak & Wash Tank, Grinding & Cooking Machine Manufacturer | Yung Soon Lih Food Machine Co., Ltd.
Based in Taiwan since 1989, Yung Soon Lih Food Machine Co., Ltd. has been a food manufacturing machine manufacturer that is specilized in soy bean, soy milk and tofu making sectors. Unique design soy milk and tofu production lines built with ISO and CE certifications, sold in 40 countries with solid reputation.
Yung Soon Lih has more than 30 years of food machinery manufacturing and technical experience, professional production: Tofu Machine, Soy Milk Machine, Alfalfa Sprouts Germination Equipment, Grinding Machine, etc.