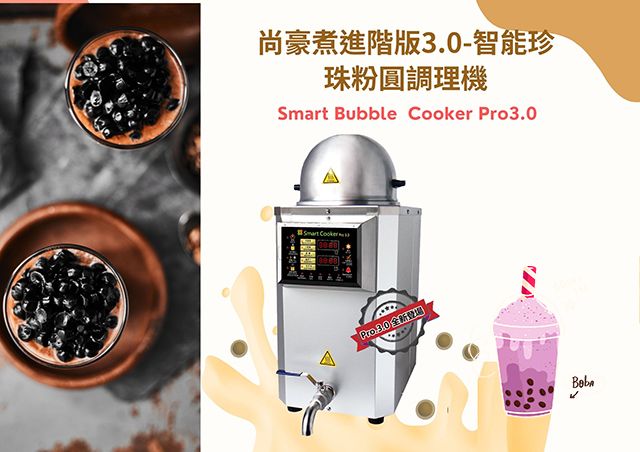 SMART_BUBBLE_COOKER_PRO3.0
Taiwanese bubble tea is overwhelmingly popular all over the world, and related ingredients, especially tapioca ball, is as popular as TSMC's high-end chips. The taste of tapioca ball determines the success or failure of a cup of boba milk tea, and can even affect the rise and fall of a brand. Therefore, how to cook tapioca ball with a springy taste is a key issue that operators must think about.
---
21 Dec, 2022
As mentioned earlier, TSMC's chips can enjoy high market share and high gross profit, mainly due to excellent manufacturing capabilities and excellent process technology, resulting in high yield, high production efficiency and low production costs. Among the causes, the top lithography machine equipment of equipment supplier ASML is one of the key factors to achieve TSMC's excellent manufacturing capabilities and excellent process technology. In the same way, it can be proved that if a tea brand can have an easy-to-operate and powerful equipment for cooking tapioca ball, as well as standardize the cooking process and technology, so that each franchise owner or branch can operate according to the standard operating process. The production of tapioca balls with good taste and consistent flavor will surely be recognized by consumers all over the world and will be helpful to establish the global brand awareness.

Yung Soon Lih Food Machinery expects to become the ASML in the field of tapioca ball cooking machinery and equipment, hence launched the "Smart Bubble Cooker Pro 3.0", which can cook 3 kg of tapioca balls at a time, can be intelligently set and easy to operate, and can automatically remind you to pour, boil, stew, stir, and set it according to user needs. In addition, there is an enhanced mechanism to prevent empty burning, so that the staff in the store can free up more time to focus on serving the consumers. We welcome the owners of beverage franchise brand enterprise and franchise business come to us for testing the different self-purchased raw bubble. We teach how to use this machine and offer the bubble recipes of different formulas and sizes, that eventually help the unexperienced staff take on the bubble cooking in a quicker and easier way. Let us help you become the TSMCs in the hand shaken tea industry.
Video

Smart cooker Pro 3.0 Bubble Tea Cooker

Related Products
Tofu and soy milk production line
Tofu production line planning, technical transfer.

Download
SMART_BUBBLE_COOKER_PRO3.0 | CE Certified Tofu Product Line, Soybean Soak & Wash Tank, Grinding & Cooking Machine Manufacturer | Yung Soon Lih Food Machine Co., Ltd.
Based in Taiwan since 1989, Yung Soon Lih Food Machine Co., Ltd. has been a food manufacturing machine manufacturer that is specilized in soy bean, soy milk and tofu making sectors. Unique design soy milk and tofu production lines built with ISO and CE certifications, sold in 40 countries with solid reputation.
Yung Soon Lih has more than 30 years of food machinery manufacturing and technical experience, professional production: Tofu Machine, Soy Milk Machine, Alfalfa Sprouts Germination Equipment, Grinding Machine, etc.
View our quality tofu and soy milk manufacturing machinery
Easy Tofu Maker
,
Tofu Production Line
,
Japanese Silken Tofu Production Line
,
Soy Milk Production Line
,
Fresh Soy Milk Production Line
,
Tau Hu Production Line
,
Bean Sprouts Germination Production Line
,
Alfalfa Sprouting Germination Production Line
,
Soybean Rice Grinding Machine
,
Soybean Rice Grinding & Separating Machine
,
chili Grinding Machine
,
Seafood & Fish Bones Grinding Machine
,
Boiling Pan Machine
,
Herbage & Sugar Cane Juice Machine
and feel free to
Contact Us
.