Soybean Soaking & Washing Machine
Automatic Soybean Soaking & Washing Machine, Soybean Cleaning Machine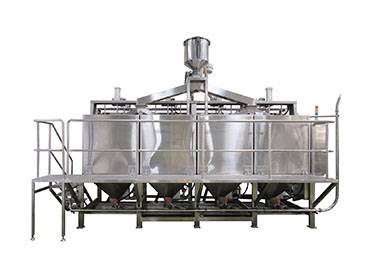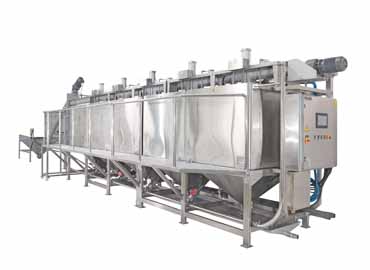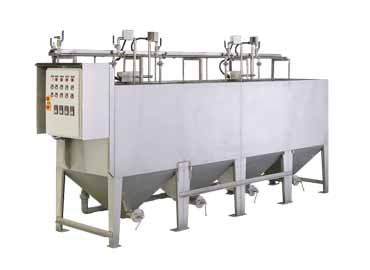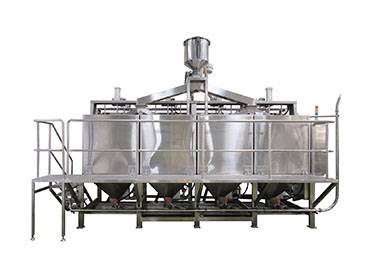 Our Soybean Soaking & Washing Machine are using compressed air injected into the water to roll the beans, make twig, bad Soybean and other impurities float on the water, then discharging with overflow to get the pure soybean. After we clean the Soybeans, we do soaking procedure in the same tank to save the time and labor cost.

This machine can instead manual way and prevent the risk from manual cleaning, to ensure the quality of pure soybean, to make good quality of soy milk and Tofu.
Features
Compressed air inject into water to have better cleaning quality: This machine are using compressed air inject into water to roll the Soybean, let impurities float on the water, and then discharging with overflow to achieve high quality and food safety requested.
Upgrade the efficiency by automatic control: PLC control are optional by customers' request, it could setting the time of cleaning, soaking and discharging, after the soaking procedure, it can also discharging the water automatically.
Upgrade the sanitary quality by stainless steel: All the machine made by stainless steel, except some special spare parts, all do with stainless treatments; all the machine and pipe are cleanable, easily to keep the pipe clean and unimpeded.
Specification
120 kgs x 1 ~ 6 tank.
180 kgs x 1 ~ 6 tank.
300 kgs x 1 ~ 6 tank.
Applications
Suitable for washing and soaking procedure of Soybean, Mung bean...etc., Available for Production Line of soy milk, Dou Hua, Regular Tofu (Firm Tofu), Silken Tofu (Soft Tofu)...etc.
Movies

Soybean Soaking & Washing Machine - According to the video clip, the procedures for soybean feeding, water spraying, soaking, discharging are all by automatic control.

Photo Gallery
Press Release
High Nutritional Long Shelf Life Soy milk

Soy Milk is the liquid after grinding the soybean and water, high vegetable protein content and soy bean lecithin, they are benefit for human body and suitable for child, adult and elder...

Read More

Tofu Burger

Tofu is low calories and content with high vegetable protein. Broke the firm Tofu, then seasoning and re-forming to Tofu burger. To eat Tofu burger is an efficiency way to reducing the Calories,...

Read More

Vegetable Tofu

Mixing the vegetable into Broken Tofu and re-forming. Vegetable Tofu is high content of vegetable protein and vegetable fiber. Able to add dice meat, spice to make vegetable Tofu more delicious.

Read More