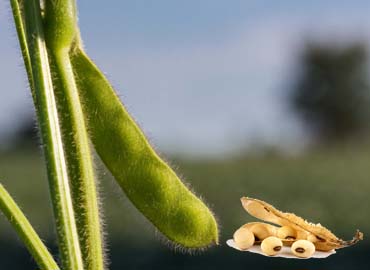 Soybean Knowledge
Soybean-Knowledge-Base
Soybeans are the world's major food crop today. They are also processed into oil, tofu, and soy protein. The two major variety of soybeans cultivated are the yellow and black. They are also known as Edamame in China and Japan. Soybeans are low in fat and calories and are a rich source of protein, fiber and many other essential vitamin and mineral.

Nowadays, the acquisition of protein by human beings are changing gradually. Animal Protein was replaced by Vegetable Protein. It has rich of Vegetable Protein in Soybean. So, many foods made of soybean. soy milk and tofu are common soybean foods. Besides, Soybeans are often used as meat substitutes. This has many health benefits and is an ideal supplemental source, especially for vegetarians.

The storage soy proteins consist of a mixture of proteins. The seeds also contain bioactive proteins including β-amylase, cytochrome c, lectin, lipoxygenase, urease, and others; as well as secondary metabolites including isoflavones, saponins, phytic acid, and goitrogens. Isoflavones have been proposed to be the active component responsible for the beneficial effects of soybean foods, and appear to work in conjunction with the proteins to protect against age-related diseases including cardiovascular disease, osteoporosis, hormone-dependent cancer and loss of cognitive function.

At many countries, milk replaced by soy milk. And use Tofu as a substitute of meat to make vegetable burger and sausage.
---