Auto. Soy Milk Cooking Machine
F-503
Auto. Soy Milk Cooking Machine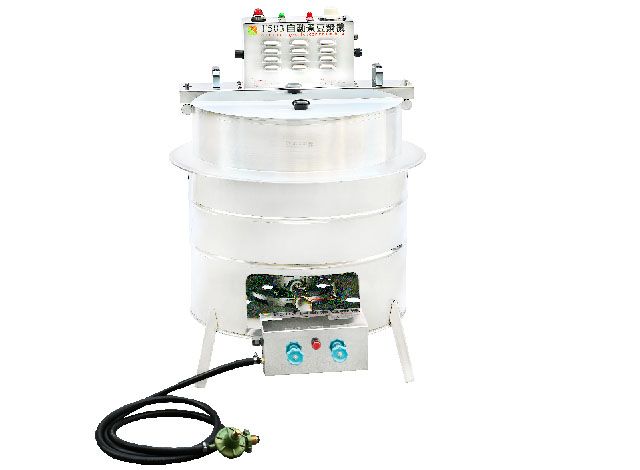 In general, cooking machines (pulping machines) are equipped with the heating function but it is not convenient of administration for restaurants and shops to manually adjust the fire or turning off the machine while boiling.
Auto. soy milk Cooking Machine are switched to the thermal status after the temperature reaches up to 100°C and detect the machine bottom's temperature without stirring, effectively preventing burning up and contributing to energy saving and improvement in safe use.
Features
No Bottom-sticking and Burning-up Design: The machine is used for cooking concentrated food like soy milk, Rice Milk and sauce without itself being burning up but with ease for cleaning.
Auto Fire Reduction After Boiling: Auto fire reduction after food heating up and boiling prevents soy milk or soup and food from spilling.
Versatile Usage: For cooking drinks like soy milk, Rice Milk, hot water, milk tea and black tea or soup food.
Gas & Time Saving and Cost Down: Quick heating while saving half of the cooking time and one-third of gas exhaustion effectively reduces the cost and increases the profit.
Temperature Detection Design: The design's detection for internal temperature without influencing stirring brings efficient management, surrounding clean and safety.
SPECIFICATION
| | | |
| --- | --- | --- |
| Model No. | F-603 | F-503 |
| Size (unit: mm) | 670(W)*910(D)*940(H) | 670(W)*900(D)*930(H) |
| Capacity | 68 L | 68 L |
| Weight | 54 Kgs | 54 Kgs |
| Output | 136 L/hr | 136 L/hr |
| Power | 25 W | 25 W |
| Voltage | 110 V | 110 V |
The data is for reference only, if you want to learn more information, please contact us.
Applications
Suitable for the cooking work of soy milk, Rice Milk, Thick Soup, spaghetti sauce, drink and soup.
Services
Yung Soon Lih provides 24-hour online consultation, and solves customer problems in a timely and rapid manner. In the past 30 years, Yung Soon Lih had built up a good partnership with our global customers. If you want to learn more information, please send your requirement to us.
Related Products

F-801

---

Delicious food often require elaborate making. soy milk Boiling Pan Machine (Thick Soup Cooking Machine) devices are double-layered with water-heating, so that they will not cause burn-up nor influence food flavor after a long time of cooking. Time and temperature for cooking are operated on the panel and thus facilitate cooking condensed food.They can be used for cooking not only soy milk but also Rice Milk, soup and concentrated sauce like spaghetti sauce.

---

---

Grinding/ Separating Machine and Cooking Machine produce soy milk in a smooth flow. First, taking Soybean throw into Grinding/ Separating Machine, and extracting to produce raw soy milk. Then pouring to Cooking Machine and heating raw soy milk. After boiling, soy milk is complete.But, with the transformation of the business model, there are very many chain stores of beverages asking efficiency and reducing labor costs. This trend makes us to design a new type of soy milk machine that correspond the market demand. Therefore, we developed Integrated soy milk Machine that combined the Grinding/ Separating Machine and Cooking Machine.On grinding and separating function, it according our professional and technical and experience near thirty years on soybean food machine. The most important characteristic is grinding fast and soybean okara watery lower. And using stainless steel pipe to connect Grinding/ Separating Machine and Cooking Machine. This way makes raw soy milk to transport to tank and heating of Cooking Machine directly. This machine adopts heating by tubular electric heating element. The cook tank has capacity of 30 liter. And we set a stirring in cook tank. The stirring function helps you to avoid scorch during cooking process. And promote environmental cleaner and production quality. And the finished soy milk is more fragrant and concentrated. It is a good choose of opening store and start a business absolutely.

---

---

Files Download

---
Press Release
Being vegetarian is no longer a slogan! Social media encourages young people to change their eating habits,Flexible vegetarian food occupied for 42% of the world's population!

These, in a nutshell, are the recommendations of the new Canada's Food Guide, released Tuesday after years of consultation and discussion with almost everyone — except the food industry.
It...

Read More

Tofu Burger

Tofu is low calories and content with high vegetable protein. Broke the firm Tofu, then seasoning and re-forming to Tofu burger. To eat Tofu burger is an efficiency way to reducing the Calories,...

Read More

Vegetable Tofu

Mixing the vegetable into Broken Tofu and re-forming. Vegetable Tofu is high content of vegetable protein and vegetable fiber. Able to add dice meat, spice to make vegetable Tofu more delicious.

Read More