Tofu Pressing Machine
Automatic Tofu Pressing Machine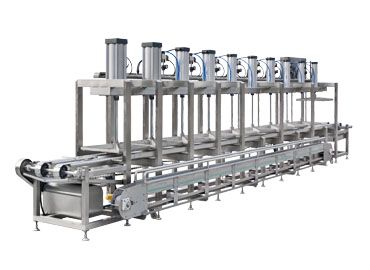 Tofu Pressing Machine is made of stainless steel material, hygienic, beautiful and durable. The standard equipment includes: machine table, underwater pressure plate and pneumatic cylinder. The machine can be operated by one person, easy to operate and save labor, it is suitable for pressing and molding of Tofu and Dried Tofu. The expected output capacity can be estimated according to molding time. When using Tofu Pressing Machine, the pressing time is related to the hardness or softness of product. Therefore, the machine can be set for two-stage pressure, it is easy to operate, the pressing time can be quickly adjusted according to product characteristics, and it can stack 5 to 8 pressing plates. Tofu Pressing Machine has three models types, including single presser, double presser and triple presser, which are suitable for chain stores, supermarkets or starting a new business.

Tofu Pressing Machine can solve the problem for traditional processes of tofu pressing and molding which using stones or heavy objects to press on the mold. It is not only improves the production efficiency, but also improves the hygienic quality and taste consistency during the production of Regular Tofu (Firm Tofu) and Dried Tofu, and reduces workplace injury of workers when handling the machine.
Features
Single operator required only, safety and hygiene.
Molding time shorten.
Pressing time adjustable, easy for production line planning and mass production evaluate.
Two stages pressing pressure, able to set with Tofu pressing and molding.
We have single presser, double presser or triple presser, you can choose according to your production capacity request. For start new business of Tofu, we recommend you can choose for single presser or double presser as an optional to suit your production capacity request.
SPECIFICATION
Single Presser:
Model No. / Mold Size
FB002007: 280 ~ 299 mm
FB002008: 300 ~ 349 mm
FB002009: 350 ~ 399 mm
FB002010: 400 ~ 449 mm
FB002011: 450 ~ 499 mm
FB002012: 500 ~ 550 mm
Double Presser:
Model No. / Mold Size
FB002013: 280 ~ 300 mm
FB002014: 310 ~ 400 mm
FB002015: 410 ~ 550 mm
FB003010: 375 ~ 375 mm
The data is for reference only, if you want to learn more information, please contact us.
Services
Yung Soon Lih provides 24-hour online consultation, cooperates with engineers to solve customers' problems by the remote operation, saves people's round-trip time and labor cost, and solves customer problems in a timely and rapid manner.
In addition, food manufacturers who just started their business or expanded their factories, our senior engineers will go to the company site to survey and help you to planning the layout. In the past 30 years, Yung Soon Lih had built up a good partnership with our global customers like Czech Republic, Poland, Canada and also transfer the technical know-how of produced soy milk and tofu to our customers. We were committed to becoming turnkey solution provider.
Movies

In the Tofu Pressing Machine video clip, you can easily understand the Tofu Pressing Machine procedure, push the button then to do Tofu pressing and molding.

Files Download

---
Press Release
Being vegetarian is no longer a slogan! Social media encourages young people to change their eating habits,Flexible vegetarian food occupied for 42% of the world's population!

These, in a nutshell, are the recommendations of the new Canada's Food Guide, released Tuesday after years of consultation and discussion with almost everyone — except the food industry.
It...

Read More

Tofu Burger

Tofu is low calories and content with high vegetable protein. Broke the firm Tofu, then seasoning and re-forming to Tofu burger. To eat Tofu burger is an efficiency way to reducing the Calories,...

Read More

Vegetable Tofu

Mixing the vegetable into Broken Tofu and re-forming. Vegetable Tofu is high content of vegetable protein and vegetable fiber. Able to add dice meat, spice to make vegetable Tofu more delicious.

Read More