Vacuum Soybean Suction Machine
Vacuum Soybean Suction Machine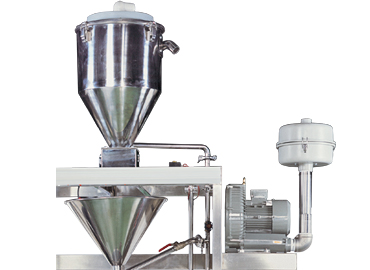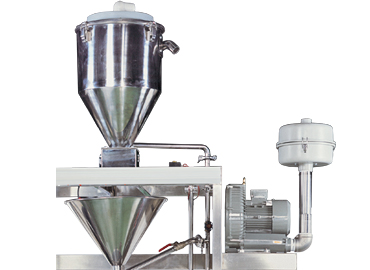 Vacuum Soybean Suction Machine could transfer Soybeans from Dry Beans Tank to next process for cleaning and soaking.

Vacuum Soybean Suction Machine are driving vacuum pump by compressed air, vacuum condition in the container, create negative pressure in the pipe to suck the beans. After Soybean sucked in the container with fixed time and quantity by setted, vacuum pump would stop and outlet open automatically to make Atmospheric pressure inside. Then, Soybean drop down to the bottom, and did Soaking & Washing (by Soybean Soaking & Washing Machine). This type of transferring equipment with low breakdown rate and high durability, no matter dry or wet beans are also available.
Features
Reduce the labor cost for lifting.
It's breakdown rate lower and easy to maintain.
Transferring pipe are made with Food and Pharmaceutical grade.
Dry or wet beans are all available.
Horizontal and vertical are all available.
Turn on and run is fast, time saving.
Specification
Customized design by customers' capacity request.
Applications
Special for Soybeans, Mung Beans, Black Beans, Red Beans transfer.
Movies

After pour soy bean to Dry Beans Tank, deliver soy bean to Soaking & Washing (Soybean Soaking & Washing Machine) through transferring pipe.
Press Release
High Nutritional Long Shelf Life Soy milk

Soy Milk is the liquid after grinding the soybean and water, high vegetable protein content and soy bean lecithin, they are benefit for human body and suitable for child, adult and elder...

Read More

Tofu Burger

Tofu is low calories and content with high vegetable protein. Broke the firm Tofu, then seasoning and re-forming to Tofu burger. To eat Tofu burger is an efficiency way to reducing the Calories,...

Read More

Vegetable Tofu

Mixing the vegetable into Broken Tofu and re-forming. Vegetable Tofu is high content of vegetable protein and vegetable fiber. Able to add dice meat, spice to make vegetable Tofu more delicious.

Read More