Twin Grinding & Okara Separating Machine
Automatic Soybean Twin Grinding And Okara Separating Machine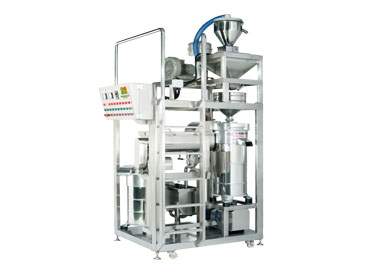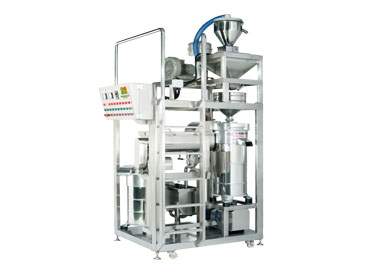 General grinding machine only grinding one time, then separate okara and throw away. But there have a lot of nutrients in soybean okara, like protein and isoflavones etc. So we design twin grinding device in our machine. It could increase 10% of production capacity at same material quantity and soybean milk concentration. At the same time, discharge the bean okara is lower water content, also easier recycle and transfer.
Elimination device of soybean milk foam(Special Design):
When boiling of soybean milk, it will generate a lot of foam. Bubble will affect the appearance of tofu. In general add the defoamer to solve the problem.
We especially design the elimination device of soybean milk foam without add defoamer to achieve no bubble effect. The most important is we help customer produce the nature Tofu.
Features
Elimination device of soybean milk foam with patent design, make tofu don't need to add defoamer.
Defoamer machine with patent design, make tofu don't need to add defoamer.
Soybean milk concentration adjustable could improve the product's quality control.
HMI, mechanical press-key, settable program parameter are easy to operator.
High efficient grinding and separating make low moisture of okara, moving okara easily and cost down.
Compare with cooked soybean milk system which cook first then separate. This is more save of power energy consumption and cost low.
Functional machine with small size, high production, easy to operator, install and clean.
SUS#304 material.
According to CE standard.
Automatic operator.
SPECIFICATION
F1602
Capacity: 60HZ / 65 ~ 75 kg/hr
Capacity: 50HZ / 50 ~ 60 kg/hr
F1502
Capacity: 60HZ / 130 ~ 150 kg/hr
Capacity: 50HZ / 100 ~ 125 kg/hr
F1402
Capacity: 60HZ / 250 ~ 300 kg/hr
Capacity: 50HZ / 200 ~ 250 kg/hr
Remark: The grinding soymilk concentration is 12.5°.
Applications
Suitable for the Grinding & Separating of Soybean and Black Bean. It's able to produce Regular Tofu (Firm Tofu), Silken Tofu (Soft Tofu), Fried Tofu, Vegetable Tofu (Tofu with Vegetable and Herbs), Tofu Burger (Tofu Patty), Tofu Sausage, soybean milk (Long Life soybean milk), Fresh soybean milk, Dried tofu, Dou Hua (like Tofu Pudding).
Movies

Grinding and Separating the soybean, heating the soymilk, vent out the okara.
Press Release
High Nutritional Long Shelf Life Soymilk

Soymilk is the liquid after grinding the soybean and water, high vegetable protein content and soya bean lecithin, they are benefit for human body and suitable for child, adult and elder...

Read More

Tofu Burger

Tofu is low calories and content with high vegetable protein. Broke the firm Tofu, then seasoning and re-forming to Tofu burger. To eat Tofu burger is an efficiency way to reducing the Calories,...

Read More

Vegetable Tofu

Mixing the vegetable into Broken Tofu and re-forming. Vegetable Tofu is high content of vegetable protein and vegetable fiber. Able to add dice meat, spice to make vegetable Tofu more delicious.

Read More