Start a business with Easy Tofu Machine
Compact Tofu Processor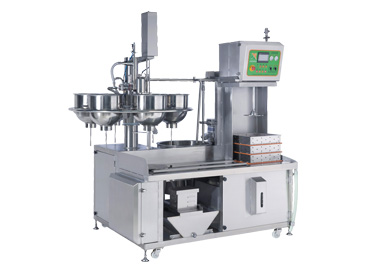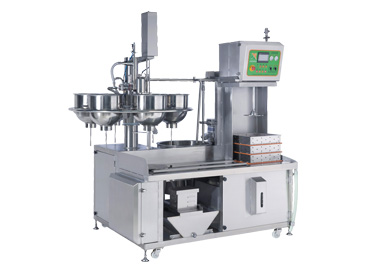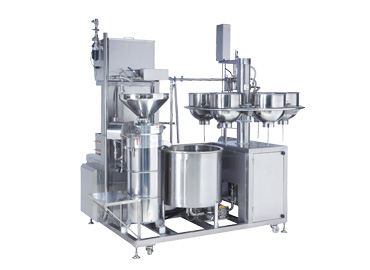 YUNG SOON LIH FOOD MACHINE's Easy Tofu Maker(Start A Business with Easy Tofu Machine, Multi-Function Compact Tofu) is multi-function 5 in
1. Grinding & Separating
2. Cooking & Pumping
3. Coagulating
4. Stirring and filling
5. Pressing and molding

Easy Tofu Maker suitable for supermarket and chain store, smallest working area request, 6 ~ 8 ㎡ is enough to do the installation. It is recommended to serve in supermarket or restaurant where is close to the consumer. People can easily understand the way you make fresh tofu and satisfied with your tofu products. This is only one machine, but included multi-function, you can also supply Tofu, soy milk, Silken Tofu (Soft Tofu)...etc., many products you can supply together. It is the most valuable machine to invest for a Tofu shop.
Features
Multi-Function: Able to produce soy milk, Dou Hua (like Tofu-Pudding), Regular Tofu (Firm Tofu), Silken Tofu (Soft Tofu), Dried Tofu...etc.
The processes of machine manufactured are according CE international certificate.
Fast and efficiency production process, the time is shorter for soy milk stayed in the pipe, so the protein losing lower, and then we can get quality and healthy products.
Touch surface of food are using food grade material SUS304.
Design with PLC controlling system and Human-Machine interface, and there only need one operator to run this machine.
Smallest working area request.
Transparent producing Tofu process, fresh and hygiene for the consumer.
Easy Tofu Maker (Start A Business with Easy Tofu Machine, Multi-Function Compact Tofu) is suitable for chain store, easy to expand your business with stable profit income.
Easy Tofu Maker best-selling countries: USA, Germany, France, Italy, Austria, Belgium, Singapore, Indonesia, Vietnam.
SPECIFICATION
Model No.
FA006051
FA006052
FA006053
FA006054
Built-in Hot Water Generator
V
V
External Steam Boiler
V
V
Basic Components

-

-

-

-

Ability of Electric Steam Boiler: under 30kgs/cm2 /hr; working pressure: 1kg/cm2
V

-

V

-

Built-in Single Press
V
V
V
V
Capacity:dry soybean20~40kgs/hr
V
V
V
V
CE Certificate
V
V
V
V
F-16 Soybean Grinder
V
V
V
V
Soy milk Cooker(100L)
(Effective Cooking Volume: 60L)
V
V
V
V
Tofu Filling into Molds Device
V
V
V
V
Coagulating Tank(20L)
V
V
V
V
Stainless Steel Structure
V
V
V
V
Single Press Device
V
V
V
V
Touched Screen (HMI) and
PLC Control System
V
V
V
V
Molds:6 PCS (Inner Size 375*375*35mm)
V
V
V
V
Remark: Height 35mm or 25mm for option
V
V
V
V
Tofu Frame
V
V
V
V
Stainless Steel Press Block
V
V
V
V
Top Press Plate
V
V
V
V
Tofu Cloth
V
V
V
V
Vacuum Transportation Device, Feeding Device and Structure
-
-
V
V
High Pressure Blower (2HP)
-
-
V
V
Vacuum Bucket (8kg)
-
-
V
V
Corrugated Sucking Pipe Hose
-
-
V
V
Steam Boiler 100kg/cm2/Hr(if choose External Steam Boiler Type)Working Pressure:5kg/cm2/Hr
-
-
-
-
Air Compressor(1/2HP) 30L/min; Working Pressure: 5kg/cm2/Hr)
-
-
-
-
Stainless Steel Working Table (1200*600*800mm)
V
V
V
V
Size
2,200mm (H) x 1,500mm (W) x 2,200 mm (L)
Weight
Roughly 700kg (For reference only)
Associated Equipment
Movies

In this Easy Tofu Maker video clip, you can easily understand how the machine makes the Tofu. Including the process of Soybean feeding, grinding, okara separating, raw Soy milk making, Soy milk cooking, pumping to coagulation tank, stirring, and tofu filling.

In this Easy Tofu Maker video clip, you can easily understand how this machine makes Silken Tofu and Dou Hua process.

Files Download

---
Press Release
Canada Food Guide changes: More veg, less meat, and no more eating alone

These, in a nutshell, are the recommendations of the new Canada's Food Guide, released Tuesday after years of consultation and discussion with almost everyone — except the food industry.
It...

Read More

Tofu Burger

Tofu is low calories and content with high vegetable protein. Broke the firm Tofu, then seasoning and re-forming to Tofu burger. To eat Tofu burger is an efficiency way to reducing the Calories,...

Read More

Vegetable Tofu

Mixing the vegetable into Broken Tofu and re-forming. Vegetable Tofu is high content of vegetable protein and vegetable fiber. Able to add dice meat, spice to make vegetable Tofu more delicious.

Read More