Automaattinen täyttö- ja foliokorkkien muodostava kone
Automaattinen soijamaitotäyttö ja foliosuodatin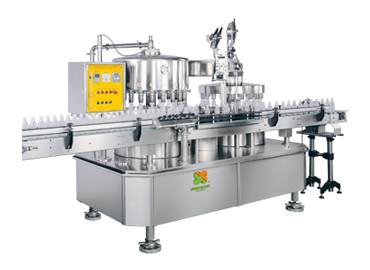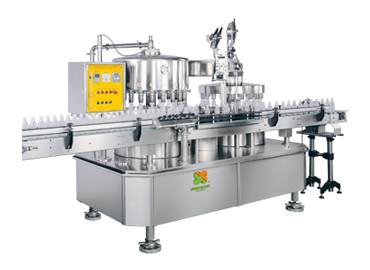 Täyttö- ja foliokorkinmuodostuslaitteen avulla soijamaito pullotetaan pullolle ja suljetaan alumiinifoliolla. Tällä tavalla vältetään bakteerin pääsy pullon sisäpuolelle ja pidennetään säilyvyyttä.
Asiakkaiden pyynnön mukaan tarjoamme sinulle kaksi tyyppiä. Kun olet täyttänyt soijamaiton ja foliosuljettimen, voit valita ruuvinkorkkikoneen tai puristuskorkkikoneen viimeistelläksesi pakkauksen.
Features
Sulkeminen on nopeaa ja tehokasta, vaikka pullon suu on tahrattu rasvalla tai pölyllä.
Automaattinen folion tunnistus- ja foliopullojen hylkäyslaite antaa automaattisen varoituksen ja poistaa korkin, kun se on havaittu ilman kalvoa, jotta suljettamattomat foliotuotteet virtaisivat tuotantolinjalta. (Tämä on valinnainen).
Kone on helppokäyttöinen ja varustettu suojalaitteilla ylivirta-, ylijännite- ja lähtö ylikuormitusta varten.
Sitä voidaan soveltaa erikokoisiin astioihin yksinkertaisesti säätämällä ja säätämällä.
Specification
Räätälöity suunnittelu asiakkaiden kapasiteettipyynnön perusteella.
Applications
Soveltuu soijamaitoon, maitotuotteeseen.
After-sales service
Yung Soon Lih provides 24-hour online consultation, cooperates with engineers to solve customers' problems by the remote operation, saves people's round-trip time and labor cost, and solves customer problems in a timely and rapid manner.
In addition, food manufacturers who just started their business or expanded their factories, our senior engineers will go to the company site to survey and help you to planning the layout. In the past 30 years, Yung Soon Lih had built up a good partnership with our global customers like Czech Republic, Poland, Canada and also transfer the technical know-how of produced soy milk and tofu to our customers. We were committed to becoming turnkey solution provider.
Files Download

---
Press Release
Canada Food Guide changes: More veg, less meat, and no more eating alone

These, in a nutshell, are the recommendations of the new Canada's Food Guide, released Tuesday after years of consultation and discussion with almost everyone — except the food industry.
It...

Lue lisää

Tofu Burger

Tofu is low calories and content with high vegetable protein. Broke the firm Tofu, then seasoning and re-forming to Tofu burger. To eat Tofu burger is an efficiency way to reducing the Calories,...

Lue lisää

Vegetable Tofu

Mixing the vegetable into Broken Tofu and re-forming. Vegetable Tofu is high content of vegetable protein and vegetable fiber. Able to add dice meat, spice to make vegetable Tofu more delicious.

Lue lisää