Three-Stage Sterilization Machine
Three-Stage Sterilization Machine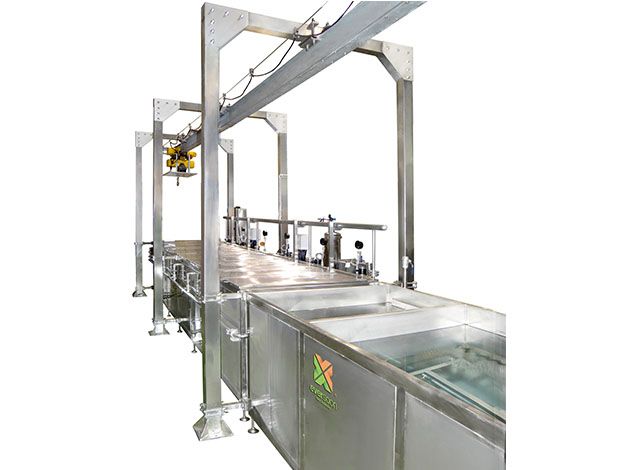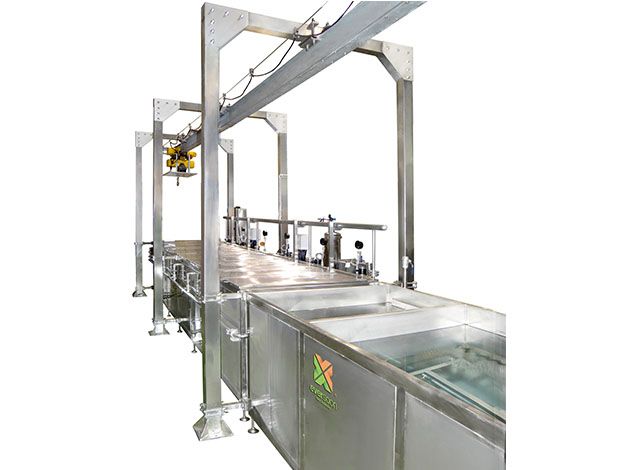 Tofu, bottled soy milk or juice is transported by the crane and soaked in hot water, room temperature water and cold water to bring the products through heating and cooling for prevention from bacterial growth and enhancement of product stability and storage.

The machine is equipped with temperature detection and control to maintain quality.
Features
One single temperature can be set in the machine and it can be set on basis of the request.
Water in the machine can be infiltrated and circuited to ensure water's sanitary safety.
It is equipped with temperature monitor and auto thermal functions.
The transportation conveyor on the machine's bottom can be elevated and lowered down, and it is easy to clean, wash and maintain.
The machine is made of stainless steel and, apart from special powers and parts, is rust-resistant.
Specification
Customized design by customers' capacity request.
Applications
Suitable for Dou Hua (like Tofu Pudding), Soybean Milk, Regular Tofu (Firm Tofu), Dried Tofu, juice, jelly...etc food products.
Movies

There is a crane device on the machine. Boxed stuff is demonstrated to be put in the cooling and pasteurizing sinks in the video. Filling-completed products like soy milk, tofu or juice are put in the box site for cooling and pasteurization.
Press Release
High Nutritional Long Shelf Life Soymilk

Soy Milk is the liquid after grinding the soybean and water, high vegetable protein content and soya bean lecithin, they are benefit for human body and suitable for child, adult and elder...

Read More

Tofu Burger

Tofu is low calories and content with high vegetable protein. Broke the firm Tofu, then seasoning and re-forming to Tofu burger. To eat Tofu burger is an efficiency way to reducing the Calories,...

Read More

Vegetable Tofu

Mixing the vegetable into Broken Tofu and re-forming. Vegetable Tofu is high content of vegetable protein and vegetable fiber. Able to add dice meat, spice to make vegetable Tofu more delicious.

Read More