Cooked Pulp Type of Soymilk Maker
Cooked Pulp Type of Soymilk Maker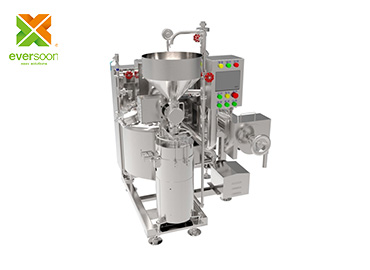 The Cooked Pulp Type of Soymilk Maker is mainly used to produce soymilk and tofu pudding. In addition, the Tofu Pressing Machine is installed to make tofu and dried tofu. Apply for restaurants, large malls, chain stores and breakfast shops.

This soymilk maker is based on the Cooked Pulp System (Separate okara after cooking). The design concept of the Cooked Pulp System is that: after soybeans are ground, soymilk and okara are cooked in the Cooking Machine; after soymilk with okara is cooked, the okara separation will be performed; after okara are drained, soymilk will be left.

Compared with the Cooked Pulp System used by this soymilk maker, the Easy Tofu Maker employs the Health Pulp System, where indicates okara will be immediately separated with soymilk after soybeans are ground and soymilk (exclusive of okara) will be cooked.
The Cooked Pulp Type of Soymilk Maker can set the parameters in advance to achieve the auto production. The operation flows are divided as the following steps:
Step 1: Constant soybean amount and stable soymilk concentration
After soaked soybeans are loaded, the constant amount device is installed in the grinding machine to grind soybeans in constant quantity. Therefore, ground soymilk has the stable and consistent concentration.
Step 2: Ceramic grinding tray
A ceramic grinding tray is used to grind soybeans and enhance the soymilk rate. The grinding mechanism provides high endurance and easy to clean and maintain. Ground soymilk will be delivered and cooked in the cook tank.
Step 3: Soymilk Cooking Machine
The steam pipes and the stirring devices are installed in the Soymilk Cooking Machine, so that soymilk can be uniformly cooked. After soymilk is cooked to the assigned temperature, it will automatically deliver soymilk to the Spiral Extrusion Separation Device.
Most of all, this soymilk maker do not to add defoamer agent in the cooking process, this way make soymilk more healthy.
In the cooking process, the stirring and special antifoaming manners will be employed to produce excellent and natural soymilk without defoamer agent, as well as the cost to purchase defoamer agent can be saved!
Step 4: Spiral Extrusion Separation Device
By the Spiral Extrusion Separation Device, soymilk will be separated with okara. The spiral extrusion separation device used with the soymilk maker can filter okara in lower water concentration than the competitors.
Step 5: Auto cleaning Function
The Soymilk Cooking Machine employs spraying and cleaning as well as uses CIP with Spiral Extrusion Separation Device to make the machine clean and greatly reduce the cleaning time!
Others: Auto alarm and operation safety
If there are no water and steam supply in the soymilk process, the machine will automatically stop and alarm a user.
Features
Equipped with touch screen.
Manual or auto operation.
Parameter adjustment and setting by the demand.
No antifoaming agent added in the soymilk process.
Ceramic grinding tray with high endurance and stability.
Stain steel filter in the grinding structure to extend lifetime.
Made of stainless steel to promote endurance.
Easy operation, self recirculation and more convenient cleaning.
Specifications
| | |
| --- | --- |
| Dimensions | 1380mm (L)*1000 mm (W)*1500mm (H) |
| Soybean Processing Amount | Soymilk concentration set as 12 degrees, and dry processing amount up to 24 kg per hour. |
| Soymilk Processing Amount | Soymilk concentration set as 12 degrees, and soymilk processing amount about 120 liters per hour. |
| Steam Amount | 20 kg/time |
| Grinding Water Amount | Soymilk concentration set as 12 degrees, and grinding water about 30 liters per time. |
| Cleaning Water | About 0.5T water amount each time. |
| Appliance Capacity | 3φ, 380V, 3KW (The electrical conditions can be adjusted according to the customer requirements.). |
Applications
Tofu, soymilk and dried tofu.
Associated Equipment
Related Products

---

Grinding/ Separating Machine and Cooking Machine produce soybean milk in a smooth flow. First, taking Soybean throw into Grinding/ Separating Machine, and extracting to produce raw soybean milk. Then pouring to Cooking Machine and heating raw soybean milk. After boiling, soybean milk is complete.But, with the transformation of the business model, there are very many chain stores of beverages asking efficiency and reducing labor costs. This trend makes us to design a new type of soybean milk machine that correspond the market demand. Therefore, we developed Integrated Soybean Milk Machine that combined the Grinding/ Separating Machine and Cooking Machine.On grinding and separating function, it according our professional and technical and experience near thirty years on soybean food machine. The most important characteristic is grinding fast and soybean okara watery lower. And using stainless steel pipe to connect Grinding/ Separating Machine and Cooking Machine. This way makes raw soybean milk to transport to tank and heating of Cooking Machine directly. This machine adopts heating by tubular electric heating element. The cook tank has capacity of 30 liter. And we set a stirring in cook tank. The stirring function helps you to avoid scorch during cooking process. And promote environmental cleaner and production quality. And the finished soybean milk is more fragrant and concentrated. It is a good choose of opening store and start a business absolutely.

---

---

YUNG SOON LIH FOOD MACHINE's Easy Tofu Maker(Start A Business with Easy Tofu Machine, Multi-Function Compact Tofu) is multi-function 5 in 1. Grinding & Separating 2. Cooking & Pumping 3. Coagulating 4. Stirring and filling 5. Pressing and moldingEasy Tofu Maker suitable for supermarket and chain store, smallest working area request, 6 ~ 8 ㎡ is enough to do the installation. It is recommended to serve in supermarket or restaurant where is close to the consumer. People can easily understand the way you make fresh tofu and satisfied with your tofu products. This is only one machine, but included multi-function, you can also supply Tofu, soybean milk, Silken Tofu (Soft Tofu)...etc., many products you can supply together. It is the most valuable machine to invest for a Tofu shop.

---

---
Press Release
High Nutritional Long Shelf Life Soymilk

Soy Milk is the liquid after grinding the soybean and water, high vegetable protein content and soya bean lecithin, they are benefit for human body and suitable for child, adult and elder...

Read More

Tofu Burger

Tofu is low calories and content with high vegetable protein. Broke the firm Tofu, then seasoning and re-forming to Tofu burger. To eat Tofu burger is an efficiency way to reducing the Calories,...

Read More

Vegetable Tofu

Mixing the vegetable into Broken Tofu and re-forming. Vegetable Tofu is high content of vegetable protein and vegetable fiber. Able to add dice meat, spice to make vegetable Tofu more delicious.

Read More