Bed Bean Sprouts Germination Machine
Bed Bean Sprouts Germination Machine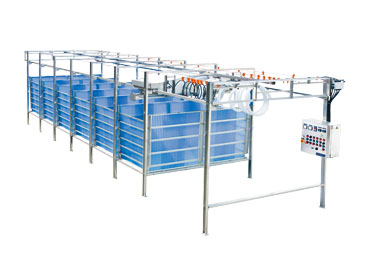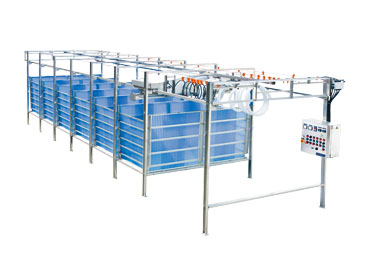 Bed Bean Sprouts Germination Machine is suitable for sprout suppliers with a daily demand above 2000 pounds.

Bed Bean Sprouts Germination Machine is suitable for large-sized green house factory. Place washed and sterilized Mung Beans (or Soybeans) in germination buckets and then move germination buckets to the green house to let Sprouts grow.

The green house must be equipped with the temperature and humidity monitoring system. By connecting it to the machine, the humidity and temperature of the Sprout growing environment can be managed accordingly. In the meantime, crane-like pipelines shall be installed above the Sprout germination facilities to initiate and set the automatic watering function accordingly.
Features
Can be used to germination Mung Bean or Soybean Sprouts.
Can set up the automatic watering function (time and number).
Conveyers are recommended to facilitate the conveying process.
Automatic humidity and temperature control.
Optional PLC human-computer interface control.
Specification
Daily demand above 2000 Kgs.
Applications
Suitable for the growing works of Soybeans Sprouts, Mung Beans Sprouts.
Press Release
Canada Food Guide changes: More veg, less meat, and no more eating alone

These, in a nutshell, are the recommendations of the new Canada's Food Guide, released Tuesday after years of consultation and discussion with almost everyone — except the food industry.
It...

Read More

Tofu Burger

Tofu is low calories and content with high vegetable protein. Broke the firm Tofu, then seasoning and re-forming to Tofu burger. To eat Tofu burger is an efficiency way to reducing the Calories,...

Read More

Vegetable Tofu

Mixing the vegetable into Broken Tofu and re-forming. Vegetable Tofu is high content of vegetable protein and vegetable fiber. Able to add dice meat, spice to make vegetable Tofu more delicious.

Read More