Automaic Filling & Foil Cap Forming Machine
Automaic Soy Milk Filling & Foil Cap Forming Machine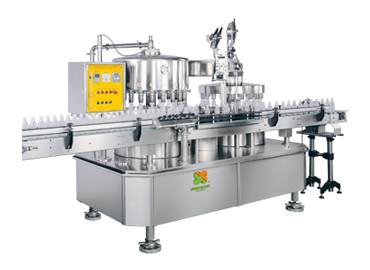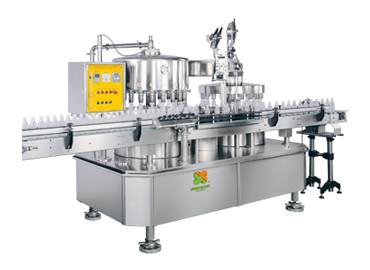 Using Filling & Foil Cap Forming Machine, filling Soy milk to bottle and sealing with aluminum foil. This way is avoiding bacterium into inner of bottle and extending the shelf life.
According to customers' request, we provide two types for you to choose. After filling Soy milk and foiling seal, you can choose Screw Cap Machine or Pressing Cap Machine to finish package process.
Features
Sealing is quick and effective even though the bottle mouth is stained with grease or dust.
The auto foil detecting and foil bottle rejecting device will give an auto warning and remove the cap once it is detected without foil, to avoid non-sealed foil products outflow the production line. (This is optional).
The machine is easy to operate and equipped with protective devices for overcurrent, overvoltage and output overload.
It can be applicable for containers of various sizes just by simple setting and adjustment.
Specification
Customized design by customers' capacity request.
Applications
Suitable for soy milk, Milk product.
Press Release
Canada Food Guide changes: More veg, less meat, and no more eating alone

These, in a nutshell, are the recommendations of the new Canada's Food Guide, released Tuesday after years of consultation and discussion with almost everyone — except the food industry.
It...

Read More

Tofu Burger

Tofu is low calories and content with high vegetable protein. Broke the firm Tofu, then seasoning and re-forming to Tofu burger. To eat Tofu burger is an efficiency way to reducing the Calories,...

Read More

Vegetable Tofu

Mixing the vegetable into Broken Tofu and re-forming. Vegetable Tofu is high content of vegetable protein and vegetable fiber. Able to add dice meat, spice to make vegetable Tofu more delicious.

Read More