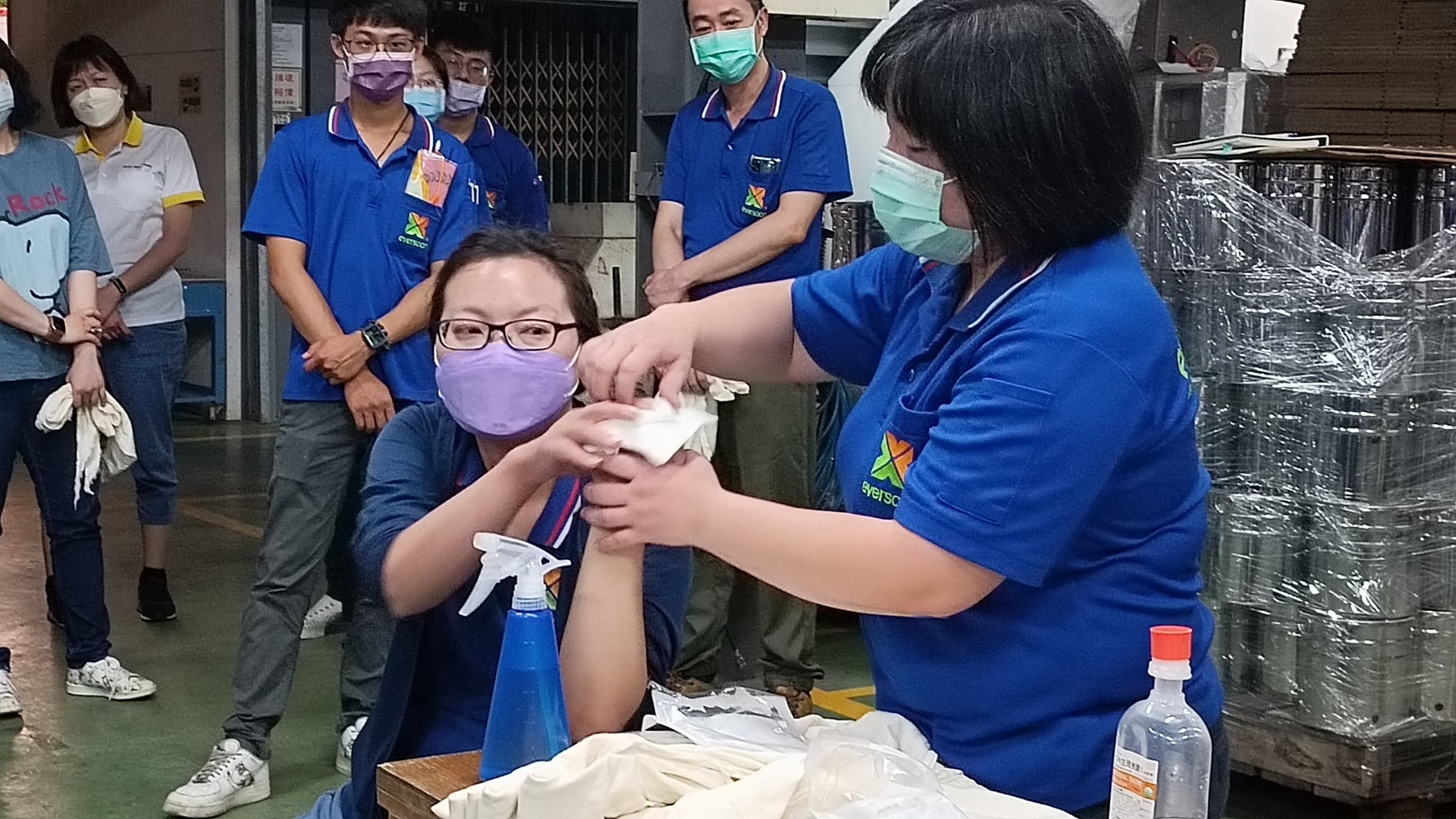 First Aid Bandage SOP
Safety first and basic common sense that workers need most
However, in the face of accidental injury, immediate treatment is very important, so prevention is more important than treatment, and usual education and training is the focus. Common sense can reduce injuries. Through this first aid bandage entity (first aid in first aid), the palm is cut off) (the application of triangle scarf - triangle hand suspends the injured limb) one-to-one training operation, allowing colleagues to make correct measures in real time
---
08 Sep, 2022
Whether it's an accidental injury or a sudden illness, 10 minutes during this prime time with proper treatment can improve your chances of survival and recovery. Therefore, the main purpose of first responders is to prevent the arrival of medical professionals or ambulances. On-Site Use of Materials and Manpower - An on-site setting where initial assistance and care is provided to patients.

When giving first aid, first responders should observe the following three principles:

Saves lives - restores the patient's breathing and heartbeat, stops heavy bleeding
Prevent injury or deterioration - treat wounds, repair broken bones
Promotes recovery - avoids unnecessary movement and reassures the patient

First aid courses generally recommend that first responders follow the following basic procedures for handling accidents:
D – Dangerous: Assess whether the site environment is safe
R – Response: Check the injured person's response
A-Airway: Check whether the airway of the injured person is unobstructed
B – Breathing: Check that the casualty is breathing
C – Circulation: Check the casualty for signs of pulse and circulation
Video

Gallerys

Related Products

F-915 Pro 3.0

The Smart Cooker Pro 3.0 has a variety of modes, able to cook tapioca pearls, grass jelly, large pearl and small pearls, soymilk and so forth, usually...

Details

Add to cart

The Easy Tofu Maker is convenient in production process as it adopts a semi-automatic operating system, which can adjust parameters and set different modules...

Details

Add to cart

Tofu Legend Machine can process up to 35kg~40kg dry beans and 60-90kg wet beans per hour. Continuous cooking (8 anti-scalding devices) is adopted, no need...

Details

Add to cart
Tofu and soy milk production line
Tofu production line planning, technical transfer.

Download
First Aid Bandage SOP | CE Certified Tofu Product Line, Soybean Soak & Wash Tank, Grinding & Cooking Machine Manufacturer | Yung Soon Lih Food Machine Co., Ltd.
Based in Taiwan since 1989, Yung Soon Lih Food Machine Co., Ltd. has been a food manufacturing machine manufacturer that is specilized in soy bean, soy milk and tofu making sectors. Unique design soy milk and tofu production lines built with ISO and CE certifications, sold in 40 countries with solid reputation.
Yung Soon Lih has more than 30 years of food machinery manufacturing and technical experience, professional production: Tofu Machine, Soy Milk Machine, Alfalfa Sprouts Germination Equipment, Grinding Machine, etc.